When people think of essential services, hospitals immediately come to mind. Eccomelt LLC is proud to be supplying our customers, like Bonnell Aluminum, who have adapted their production to manufacture essential extrusions. These materials are used for building temporary emergency hospitals, shelters, and many other much needed healthcare infrastructures.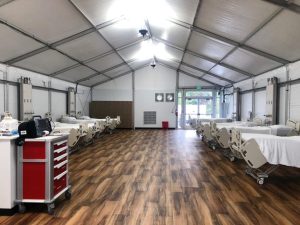 We live in an interconnected society with a complex infrastructure. There are many necessary services we count on to maintain and protect us. Services, like water utilities, power, waste collection and deliveries, require many components provided by the manufacturing sector. Our customers, foundries, die casters and extruders, including Bonnell Aluminium Extrusions, are providing valuable resources to keep these essential services running during the Covid-19 pandemic, and we want to say, "thank you" to Bonnell for having contributed to these crucial projects and using our material in your melt.
Eccomelt LLC has worked hand in hand with our customers and suppliers to implement protocols which ensure that we are responsibly managing our supply chain while keeping our employees safe.
Thanks to the hard work and diligence of our family of employees, customers and vendors, Eccomelt LLC is poised and ready to supply the manufacturing sector online as they restart and conditions improve around the world.
About Eccomelt | Direct Substitute for A356.2 Ingot, Sow & T-bar
Alongside Alcan R&D, Eccomelt LLC has developed a patented revolutionary process that produces a specification alloy from aluminum wheels at a lower cost than traditional methods and that meets that EPA definition of CLEAN CHARGE.
Eccomelt LLC ships products to foundries within North America including the United States, Canada, and Mexico, and worldwide, such as France, Ireland, Italy, Serbia, and Spain. Our product is the material of choice for many consumers because it is chemically pure and environmentally-friendly. Its shredded form has achieved higher melting rates than Ingot, Sow or T-Bar. Environmental testing has also proven the process eliminates all coatings.
We can be contacted at (888) 356-9557 or visit our website and fill out our contact form. We would be delighted to hear from you.