Many analysts say that the real concern for automakers is the car industry downturn in China. China's slowdown is expected to continue into 2020 and the impact is already being felt by auto manufacturers and auto part makers across the globe.
China is the largest automotive market in the world, and accounts for a third of all vehicles being sold globally. Any reduction in car sales in China, whether big or small, almost always has an impact on the global auto industry. For example, analyst Dan Levy explains that the GM strike itself "did not significantly alter GM's steady state financial profile", but rather the more significant problem is in China, where GM's market share is declining and sales fell below deliveries in North America for the first time since 2011. Specifically, General Motors' (GM) sales in China decreased 17.5% YoY during the third quarter of this year and there has been negative sales growth for five straight quarters.
2018 was the first year in more than two decades that China's car sales fell YoY (year-over-year). This year has been no different. Auto sales in China have contracted for 15 months straight and it looks as though the downward trend will continue into 2020. But the sales of electric vehicles (EVs) have until recently continued with rapid growth (at least until June). From January to June, internal combustion engine (ICE)-only vehicles lost nearly 2 Million sales (-15%) compared to 2018 H1, and EVs increased by 260 000 units (+66 %) for the same period. Clearly, for auto-makers it is absolutely vital to be able to offer the right products – and in China those can change very quickly with changing government policies.
Since July EV sales lost 2 %, August seems to show a 13 % decline year-on-year. What has changed since July in Chinese politics is that EVs with an e-range below 250 km (up from 150 km last year) do not qualify for subsidies anymore, and the subsidies for those with longer e-range have been cut by around 50 %. In addition, local subsidies also expired – in favour of charging infrastructure investments.
Despite some OEMs offering lower list prices to compensate, EVs above 250 km e-range can become up to 10 % more expensive for buyers, and those under 250 km range (mostly mini- and small cars) are becoming much less attractive. Accordingly, in anticipation of these July cuts, demand was pulled into June, which is easily seen in figure 2.


Latest China EV policy revisions now pave the way for more hybrids, which from a GHG emission point of view also make more sense in a country mainly dependent on fossil fuels to produce their electricity. This latest change in policy will not make automakers abandon plug-in electric vehicle production in favor of hybrids, as the Chinese government also continues with higher EV volume targets. Chinese year-to date August, plug-in sector sales in China are still up 44 % compared to 2018, but in decline for the first time over the last 18 months. Carmakers with vehicles currently capable of less than 250 km e-range must upgrade batteries yet another time to keep them in the market. Unfortunately, a few new cases of battery fires have disturbed the confidence of consumers and legislators.
Nevertheless, the fundamentals, like government targets for EV deployment, ICE restrictions, EV portfolios and charging infrastructure investments speak for further EV (and hybrid vehicle) growth, but it will most likely be slower than the 75 % and 79 % of the previous two years. Most predict a recovery starting September/October. Analysts predict 2019 volumes of 1,5 to 1,6 million EVs, (Cars, SUVs, MPVs and LCVs together) in a light vehicle market of 25,6 million, 7 % lower than 2018. The best estimate, 1540k, converts to an EV share of 6,0 % and a growth of 33 % over 2018.
China is by far the largest market for electric vehicles and clearly the leader in vehicle electrification (that we will most likely see all over the world in the coming years/decades). 2018 EV sales in China reached 1 160 000 units (passenger and light commercial vehicles together), compared to 410 000 in Europe and 360 000 in USA. In 2019, China represents until now 55 % of all 1.45 million global plug-in light electric vehicle sales (and in addition we find 75 000 medium and heavy commercial vehicles, most of them electric metro buses). This means that by the end of 2019 the EV fleet in China will reach the 4 million vehicle mark.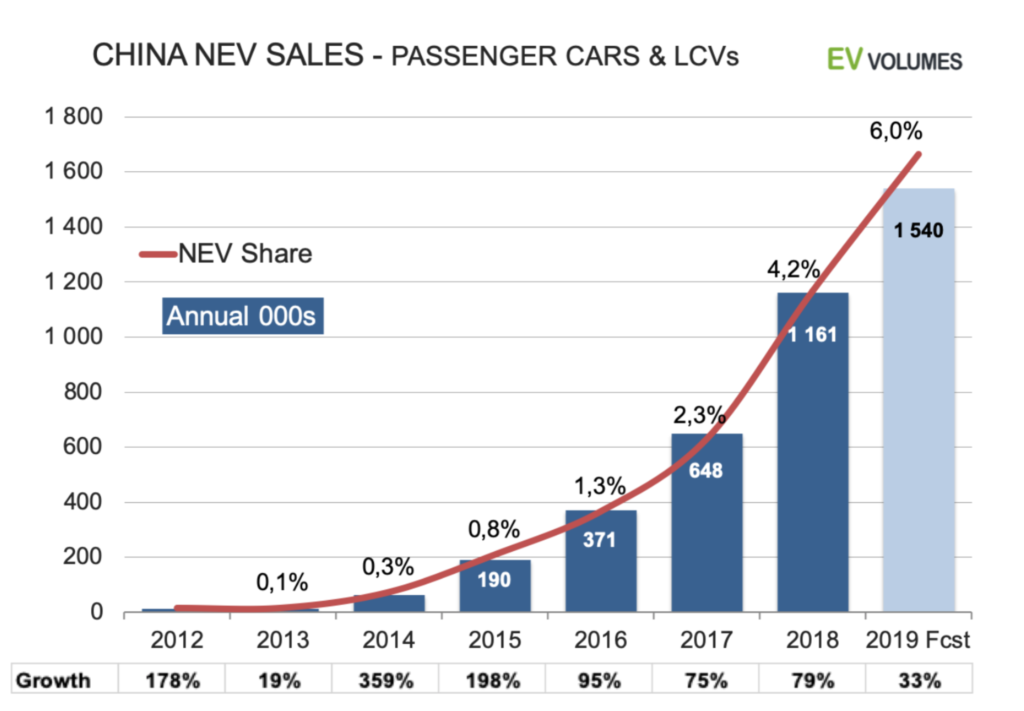 This makes it quite obvious that as an automaker, in order to be successful in China, your plans need to focus heavily on electrification – and we will most definitely see similar trends sooner or later in every region of the planet. With higher electrification we see changing demand for aluminum – not necessarily simply increased amounts – but certainly different alloy and product mixes. Electric vehicles have no engine (mainly made from secondary A380 or 319 castings) while hybrids typically have smaller engines. They usually both have aluminum battery trays, electric motor rotors and housings, and sometimes complex gearboxes with integrated motors, etc. They all have the urgent need to reduce car body weight in order to allow for larger batteries (for greater range). Most of the new (or modified) aluminum components are made from either primary alloys or clean aluminum alloys with "optimized" recycling content. Eccomelt356.2 is an excellent example, and proves that buying recycled content does not mean compromising on quality. Indeed, many electric and hybrid vehicle components are already using eccomelt356.2 – thereby reducing their carbon footprint.
Eccomelt356.2 – a Cost-Effective A356.2 Alternative
Alongside Alcan R&D, Eccomelt has developed a patented revolutionary process that produces a specification alloy (A356) from aluminum wheels at a lower cost than any traditional method and that meets the US EPA definition of CLEAN CHARGE.
Eccomelt ships products to foundries and casthouses within North America including the United States, Canada, and Mexico, and worldwide, such as France, Ireland, Italy, Serbia, and Spain. Our product is the material of choice for many consumers because it is chemically pure and environmentally-friendly. Its shredded form has achieved higher melting rates than Ingot, Sow or T-Bar. Environmental testing has also proven the process eliminates all coatings and no harmful emissions (smoke/fumes) are generated during melting.
If you have any questions about our products or about the ALUMIMUM conference and our participation, you may contact us at (888) 356-9557 or fill out our contact form.