For the first time in a long while, there is a scarcity of aluminum in China since Q2 this year.  As we reported in our July blog article, the automotive industry in China was experiencing an upward trend even back then, largely due to an easing of Covid-19 restrictions. In addition, car sales were up since commuters were reluctant to take public transit.   Now it is five months later, and since China was hit earlier by Covid-19 and enforced tight lockdown restrictions, its economy recovered quickly and much earlier than the rest of the world (see picture 1).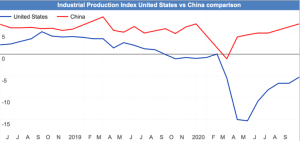 Picture 1: The Industrial Production Index of China versus the USA shows how much less impacted China was by the Covid crises than the USA. Source: https://countryeconomy.com/countries/compare/usa/china?sc=XE62
Government stimulus has been driving infrastructure growth. Demand for cars, particularly a surge in demand for electric vehicles, is skyrocketing in China, and the short term demand especially for automotive products has pushed the demand (and therefore the SHFE price – see picture 2) for aluminum up, among other factors.  As a result of this significant difference in global (LME) versus Chinese (SHFE) primary aluminum price, in the first 10 months of 2020, China imported almost three times more unwrought aluminum than it had in the four previous years put together. This has in return been another driver for the LME price increase we have been seeing.  Though the Chinese aluminum deficit is starting to reduce (and analyst expect the market to be balanced next year), the country still doesn't have enough domestic production to meet its aluminum needs for the automotive industry, even though they represent well more than half of world production!  This shortfall has been causing a short- term squeeze on aluminum worldwide, and prices are rising (as shown in picture 2).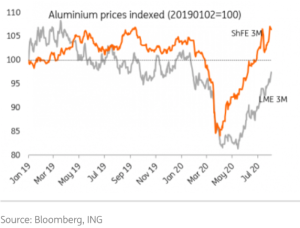 Picture 2: LME and SHFE price for primary aluminum, showing the Chines aluminum price recovering much earlier and driving up the global (LME price) of aluminum
Source: https://think.ing.com/articles/aluminium-grinding-higher-with-a-self-fulfilling-case-in-shfe
Unsurprisingly, China is responding with a boost in its aluminum production, with a 7.9 % increase in September (compared to September 2019), and reaching an all time high in October.  The economic recovery is continuing unabated.  Consumers have emerged from Covid-19 restrictions with money to spend, and factories are working overtime to meet production demands from a recovery that was better than expected.  According to Aluminum Insider, there was a 12.5% rise in automotive sales for the month of October alone, and a predicted jump of 7.1 percent on the year in the production of aluminum. Consequently, as reported by Reuters, China will launch another 3 million tonnes of annual aluminum production in 2021, more than half of it coming from Yunan a province that has abundant hydropower, which satisfies the government's new regulations on clean energy.   The only cloud on the clear horizon for China is still U.S. tariffs; the Biden administration has not publicly stated their position on the importing of Chinese goods.
In the secondary aluminum market, U.S. exports of dirty scrap, which includes Al rich Zorba and Twitch, dropped even further this year, from over 800,000 tons p.a. a few years ago down to 315,000 in 2019 and even less this year.  Therefore, in addition to the primary aluminum deficit in China, there exists a secondary deficit as well, and prices for secondary aluminum alloys have been going up.  As a result of these deficits, China relied heavily on primary aluminum imports from Russia, the Middle East, and India, since North America and Europe placed duties on metal from the aforementioned countries.  In sum, the aluminum deficit in China, along with the Green Fence initiative in the scrap market, have created the worldwide imbalance of aluminum availability that we are experiencing today. In the coming year we predict even more turmoil on the horizon, with the European Commission expected to propose in Q2/2021 a border tax on any imported primary aluminum with a carbon footprint of more than 5.5 mt of CO2e/mt of aluminum, which according to Platts, could add a 280 EUR/mt import tax on a significant portion of Chinese and Indian aluminum.
Eccomelt's response to the worldwide rise in aluminum prices is to continue to provide our ready supply of  economical, extremely clean, chemically pure aluminum, that has the lowest carbon footprint of any aluminum alloy.  Alongside Alcan R&D, Eccomelt LLC has developed a patented innovative process that produces a specification alloy from aluminum wheels at a lower cost than traditional methods, and that meets the EPA definition of CLEAN CHARGE.  Eccomelt356.2 is a direct substitute for A356.2 primary aluminum, used by OEMs, Tier 1s, foundries, and die casters who are using eccomelt356.2 to cast high-quality automobile parts. Eccomelt LLC ships products to automotive OEMs and foundries within North America including the United States, Canada, and Mexico, and worldwide, such as France, Ireland, Italy, Serbia, and Spain. Our product is the material of choice for our customers because it is sustainable and chemically pure. Its shredded form has achieved higher melting rates than Ingot, Sow, or T-Bar – thus further helping its customers to reduce energy consumption and carbon footprint.